This morning I realised that it's been 10 years to the day since I crammed as much stuff as I could into a Fiat Punto and headed off to University. I remember feeling like I was on the edge of something. Like everything that had felt so out of reach before, was now brushing my fingertips. The possibilities were endless!
As I sit here now, I'm imagining a conversation where my current self is telling my past self about all the things we've done since that day. Honestly, I think my past self would be disappointed in us.
You see, where I am now is nowhere near where I thought I would be!
Before you think I'm going to be all cheesy and go down the lines of 'it's so much better than I had planned or could have imagined,' I'm not going to say that because, honestly, it's not true!
In the past 10 years life has knocked me down and given me a good kicking, some days it still does.
My plans of travel, career, marriage and children – none of them have happened.
Now don't get me wrong, I have a brilliant life, excellent friends, a roof over my head and a loving family, so don't for a minute think I'm ungrateful. But for the sake of honesty; if I could pick, I wouldn't pick here.
For the longest time all I wanted was to be married and have children. A dream I know is shared by many others. I had it all planned out; I was going to meet someone at University, fall madly in love and get married when we finished our studies. We'd then go on to train in our professions and establish ourselves financially, travel together and then in a couple of years have all our babies. I'd then get to do the job I longed for most – parenthood!
I thought by the time I was 30 I'd have finished having my babies, but as 30 is just around the corner the reality is I won't have even started!
18 year old Busy would be horrified!!
The truth is for me, singleness has left me massively disappointed. Disappointed in God for creating me with that desire for relationship but not showing me someone, for not giving me 'my one.' Disappointed in men for not wanting me, or for getting my hopes up and then changing their minds. Disappointed in me for being 'too fussy,' for not trying hard enough. But mostly disappointed in myself for allowing the whole thing to become such a big thing in my heart that it's left me disappointed. What a mess!!
For years I quoted verses like Psalm 37:4 to God in a way that made me feel entitled to the fulfilment of it…
Delight yourself also in the Lord, And He shall give you the desires of your heart.
I tried to use the fact that I'd obeyed all the rules and done all the right things and not done all the wrong things as some sort of bargaining tool with God. I'd see Facebook statuses of friends or family getting engaged or being pregnant and scoff, roll my eyes and make negative comments about them. I was very rarely happy for them.
Disappointment had trapped me in a place that I couldn't get out of. A place of darkness, negativity, bitterness and apathy.
You know the big thing about disappointment is it robs you of the ability to rejoice. Really good things would happen to me …and it …and they would be tainted. I put on hold opportunities because I wanted to 'wait until I had someone to share it with.' I avoided travel because I didn't want to go on my own and I left friends weddings early because I couldn't be around their happiness.
In those moments, I couldn't turn to the place of refuge and truth that I had before. I couldn't turn to my heavenly father because I was angry with him, really angry! For me, nothing he could say was going to dull the sense of sadness and failure I had.
But what I hadn't factored in is that my God, my Father, is kind.
Kind enough to not just 'fix' my problems but to deal with the root. He put around me friends who challenged my mindset. He would find any chance he could to whisper gentle truths about my value. He would sneak up on me during worship and fill me with his supernatural joy that my negative mindset couldn't overcome. What he taught me was that the soothing balm to my disappointment wasn't a husband to solve all my problems … but joy.
1 Thessalonians 5:16-18 says…
Always be joyful. Never stop praying. Be thankful in all circumstances.
What it doesn't say is 'always be happy.' In a video made by Rend Collective, they say 'Happiness is not joy! Happiness is an emotion, a superficial response to pleasant circumstances. Joy is deeper, it's a spiritual discipline'.
The truth is happiness is an emotional response, joy is a choice.
REVELATION!!! I could choose joy no matter how I felt. I could choose to find things to be thankful for, to rejoice in even when I was feeling sad.
I began to thank God for the things I did have in my life. I began fighting for my joy, actively choosing it wherever I could.
Some days this felt fairly easy, some days I would have to choose to let my walls down, some days I would literally have to drag my joy from the enemy's hands. I learned that it was okay to say that I really wasn't doing great but that God still was!
As I said earlier, if I could choose a place to be in right now, I wouldn't choose this. But I also have a crazy amount of things that I have to be thankful for right now.
Joy and disappointment aren't exclusive, they can live alongside each other.
Does choosing joy in my disappointment make me want to be married any less? No. Does it replace the longing for children? No. Does it stop it hurting? No. Does it mean that I don't have to put in place other things to help me cope with being single? No.
However, what it does do is make it so much more bearable. It allows me to rejoice in the small and the big things. It releases me to celebrate other people's successes and happiness. Most importantly it allows me to come before my heavenly father with honesty and let him be my comfort and the one who restores my joy!
Why are you down in the dumps, dear soul?

    Why are you crying the blues?

Fix my eyes on God—

    soon I'll be praising again.

He puts a smile on my face.

    He's my God.
---
BUSY THOMAS is originally from just outside Liverpool, England and she now lives in Bournemouth. Busy is passionate about Jesus, community and loves meeting new people. When not chatting over a cup of tea, she can be found watching films and baking cakes. If you ever need to win her over, the way to her heart is with pretty stationery.
---
INVEST IN YOUR GOD-GIVEN GIFTS AND SPIRITUAL GROWTH
Your Gifts: Spiritual Gifts Discovery
God created you with purpose and passion—learn how you can take the gifts He has given you and use them to advance His Kingdom in ways you never imagined.
---
Free Online Spiritual Gifts Survey: Discover what you are gifted by God to do on this earth in about 20 minutes, CLICK HERE
---
Here are more free articles, excerpted from the book Your Gifts shown above, one for each of the nine Team Ministry Spiritual Gifts…
---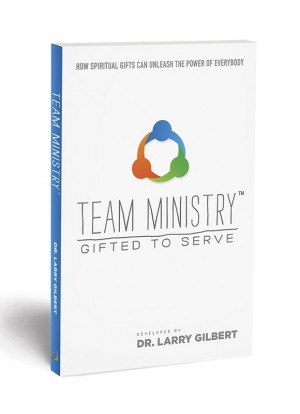 Spiritual Gifts Can Unleash the Power of Everyone!
Lead others to discover their spiritual gifts.
For pastors and group leaders.
Read This Book Now, eBook Instant PDF Download, Click Here
Read This Book with Your Group of Pastors and Shepherds, Bulk Pricing for Groups, Click Here
---
Click on each cover below for more information