There's a place in downtown Los Angeles that poses as a park to the everyday passer-by. In the "winter" time (this is southern California we're talking about, so I feel the need to use quotation marks there) the park is home to an outdoor ice skating rink, and during the summer months there are cover bands and local artists who display their talents on stage at a concerts-in-the-park type venue. It's an appealing place to the eye: there is a water fountain that begs for your attention, park benches that line the area, patches of grass to sprawl out on, and pieces of art hung on one of it's walls that change from time to time. This place is smack dab in the middle of the hustle and bustle of downtown LA. This place is called: Pershing Square.
Five years ago I took a group of high school students downtown to "feed the homeless."
That phrase "feed the homeless" is such an overused and impersonal group of words that suggests we have so much to give and the others don't.
If I can go down and give food to people who are homeless, then that would somehow make a difference and I can sleep better at night because I helped them.
The first couple times we went down there, we made close to 200 sandwiches to take down and hand out. We walked all over downtown LA and passed out the sandwiches and then garnered enough courage to even ask a few of the people we handed the sandwiches to if we could pray for them. After doing this the second time, we got back on the train to head home and as we were debriefing our time…
The Holy Spirit very clearly was telling my heart that what we were doing was good, but it might not be what was needed.
I felt like making sandwiches, handing them to people who are homeless, maybe praying for them, and then going home was all giving us 30-60 second interactions with the people we so desperately wanted to show Jesus to. This wasn't long enough! My heart and my spirit were unsettled and I knew we needed to shake things up.
Then the question came: "What would it look like if we didn't take anything but a water bottle, and spend real time with the people who were there?"
Our focus shifted from trying to feed 150 people 200 sandwiches to trying to be with 5-10 people for an extended amount of time.
Our next trip to LA was a game changer for us and would alter the way every visit looked from that point forward.
We decided we'd stick to one location and that would be our focus. Our present to the people without homes would be our presence.
Not that hanging out with me or the students and friends I ended up taking on these visits was anything special. I'm not that funny, I'm not a good story teller, and I can't sit down in one spot very long, so I'm not giving people the gift of being able to hang out with me.
The present of our presence I am referring to is the simple, agenda-free time I wanted to give to people without homes who often sit on the side of a street or freeway and have a hard time getting people to give them eye contact … much less the time of day. I wanted to ask questions. I wanted to listen with a generous ear. I wanted to look a homeless woman or man in the eyes and be fully there with them to hear what they had to say, what they had to think, and what they had to share.
Jesus was exceptional in everything he did when he was on this earth. One thing that He was extra good at though was incarnational ministry. He wanted to sit next to those who were hurting. He wanted to talk to those no one wanted to talk to. He wanted to do away with the idea that there is an us and a them.
The others are everyone around me, and Jesus asked me to love the Lord my God with all my heart, soul, and mind, and love the other as myself.
Jesus said to him, " 'You shall love the Lord your God with all your heart, with all your soul, and with all your mind.' This is the first and great commandment. And the second is like it: 'You shall love your neighbor as yourself.' " Matthew 22:37-39
BRANDON VASQUEZ has been in ministry for over 20 years as a volunteer, intern, camp dean, youth pastor and he currently is a Pastor at North Coast Church near San Diego CA. He and his wife Michelle got married in April of 2014 and welcomed their first child, Vincent Anthony Vasquez, into this world in November of 2015. Brandon loves movie scores, with some of his favorites being Transformers: The Score, Braveheart, Lord of the Rings, Game of Thrones, Harry Potter, and TRON: Legacy. He is the proud uncle of Meadow and Harlow, his sister's two daughters, and is also a fan of the Lakers and Angels. He and Michelle have a passion to love Jesus and His people.
---
Your Gifts: Spiritual Gifts Discovery
God created you with purpose and passion—learn how you can take the gifts He has given you and use them to advance His Kingdom in ways you never imagined.
---
Free Online Spiritual Gifts Survey: Discover what you are gifted by God to do on this earth in about 20 minutes, CLICK HERE
---
Here are more free articles, excerpted from the book Your Gifts shown above, one for each of the nine Team Ministry Spiritual Gifts…
---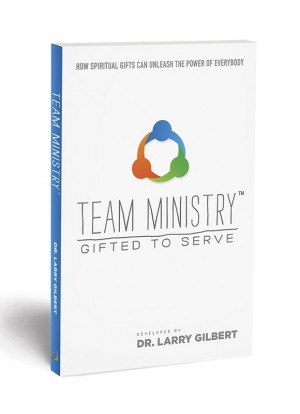 Spiritual Gifts Can Unleash the Power of Everyone!
Lead others to discover their spiritual gifts.
For pastors and group leaders.
Read This Book Now, eBook Instant PDF Download, Click Here
Read This Book with Your Group of Pastors and Shepherds, Bulk Pricing for Groups, Click Here
---
Click on each cover below for more information