I was born in Nigeria.
I first began to grasp the understanding of Christianity through the eyes of PURPOSE.
Your purpose as a believer….just like everything that exists, is defined by the answers to these three questions:
Who am I?
Why am I here?
Where am I going?
You see, as a human being, you must be wary of labels….labels put on you by your family….by friends…by society…even by your profession.
JESUS was referred to as the son of the carpenter.
JESUS was referred to as the son of David.
JESUS was referred to as JESUS CHRIST.
Labels on you determine your response….your positivity and the value you would exude.
JESUS knew who HE was. The Christ (Messiah). The sun of righteousness with healing in HIS wings. The Prince of Peace. The last Adam. The saviour and redeemer of mankind!
But you see, for those who knew HIM and addressed HIM as the carpenter's son…they could only experience the carpentry skills of JESUS.
How you see yourself? What do you call yourself by the Word of GOD?
You're not born by mistake.  You didn't just happen to your family…to the world….you happened on PURPOSE.
The thief comes only to steal and kill and destroy; I have come that they may have life, and have it to the full. John 10:10
This was the PURPOSE of JESUS the son of GOD.
Who are You? Why are you here? Where are you going?
The plan and strategy of the enemy is to distract you from you.
The real you is not what you do. But who you are.
The real you is not what happened to you. But who you are.
The real you is not what you possess materially. But who you are.
Your identity and the recognition of it is your guarantee to a life of PURPOSE.
Nobody can define this path for you except the Spirit of GOD…
But God has revealed them to us through His Spirit. For the Spirit searches all things, yes, the deep things of God. 1 Corinthians 2:10
Are you struggling with poor decisions?
Are you struggling to fit into life?
Do you feel confused and without hope?
There's a search engine in the Spirit. Stop asking google who you are! Stop asking people who you Are!
I love this scripture…
People who do not have God's Spirit do not accept the things that come from his Spirit. They think these things are foolish. They cannot understand them, because they can only be understood with the Spirit's help. 1 Corinthians 2:14
GOD's people, let us keep matters of the Spirit for the Spirit to handle. Consult with the Father. This is what we do. This is our way of staying alive.
Disconnected from JESUS, the vine, we are dead—purposeless, meaningless, confused and full of wrong decisions…
Yes, I am the vine; you are the branches. Those who remain in me, and I in them, will produce much fruit. For apart from me you can do nothing. John 15:5
Nobody can truly interpret the map of GOD for your life except by the Spirit.
The spirit of GOD through the WORD of GOD can label your life correctly.
I'm not sorry you are reading this. I'm not sorry you are searching for answers. I'm not sorry you have a bright future.
The scripture says you have a hope and a future…
For I know the thoughts that I think toward you, says the Lord , thoughts of peace and not of evil, to give you a future and a hope. Jeremiah 29:11
What can contradict this? What label? Whose impression?
Where are the men and women who are ready to live life on purpose?
Can we not be sorry we were born?
Can we take hold of the life of GOD within and start living as created.
Not by chance.
But by Faith.
---
CLICK HERE to read another Fruitful story by FREDA ASHINZE
FREDA ASHINZE was born in Delta State and currently lives in Lagos, Nigeria. She is a fearless, and dogged believer of living life on purpose. As a writer, host, anchor and Idea-driver of League of the Purpose Driven, Freda lives her life each day passionate about people—how to help them succeed and reach their highest potentials in GOD. She uses social media like Facebook, Twitter (@fredaAshinze1) and Instagram (@faithjourneybyfreda) to express her gifting and engage in inspiring conversations. She has had the rare privilege of volunteering, serving and leading in various capacities across for-profit and nonprofit organizations. Freda is particularly passionate about young people, seeing them discover, fulfill and daily live out GOD's purpose for their lives. She believes in seeking, finding and serving GOD from an early age. She's passionate about peace and political stability across the nations of the world. She believes the Nations need to be filled with people who know and have a relationship with GOD, who have discovered and are living out their purposes. She's also desires to restore hope to the hopeless and comfort to the needy. She serves with Project Give To Makoko, an outreach yearly to feed at least 1,000 children in Lagos' largest slums during the Christmas season. Freda believes she was born for such a time as this.
---
INVEST IN YOUR GOD-GIVEN GIFTS AND SPIRITUAL GROWTH
Your Gifts: Spiritual Gifts Discovery
God created you with purpose and passion—learn how you can take the gifts He has given you and use them to advance His Kingdom in ways you never imagined.
---
Here are more free articles, excerpted from the book Your Gifts shown above, one for each of the nine Team Ministry Spiritual Gifts…
---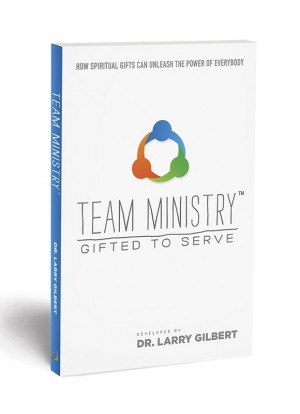 Spiritual Gifts Can Unleash the Power of Everyone!
Lead others to discover their spiritual gifts.
For pastors and group leaders.
Read This Book Now, eBook Instant PDF Download, Click Here
Read This Book with Your Group of Pastors and Shepherds, Bulk Pricing for Groups, Click Here
---
Click on each cover below for more information