Life has been a lot of things in recent months, but consistently, it's been tough.
The past 18 months have been a long and continuous journey of refinement, as a young woman and in my faith in Jesus Christ.
In the unknown and uncertainty, I've repeatedly returned to the phrase 'Choose Joy.'
For the best part of a year, I had been having treatment for cancer that was found in my face in December 2017. I had nine gruelling courses of chemotherapy, was flown out to Florida to have Proton Beam Therapy in the spring of 2018; ending the year with a major surgery to remove the remaining tumour in my face.
At the start of February 2019, I was told my scans were clear and my life could finally commence again.
However, only 3 weeks later, I was told that the cancer had already regrown in my lungs. There are now two tumours in my left lung that are treatable, but no longer curable.
After riding on such an emotional high of being told I was free of cancer, I was told I had to make some major decisions regarding the quality of my remaining life. In short, I have 6 to 12 months left to live if I choose to have the treatment offered.
How do you proceed when given news this shocking and devastating?
The only place of stability and certainty in my life has been to look to God.
My strength to approach this horrendous news over the past months has been to embrace the phrase 'Choose Joy.'
In this time of deep conversations with God, my family and friends, I've discovered that joy and happiness are two different experiences.
Happiness is circumstantial; an emotional reaction to situations and a response to what you enjoy.
Joy is something our soul experiences, which our bodies respond to, knowing an inner fulfilment and being satisfied in that knowledge.
Joy, for me, is the certainty of the future and contentment in my ultimate destination. It's the understanding that above all else, God is consistently faithful and abundantly loving. It's the fundamental knowledge that Jesus has gone before me and defeated death through His resurrection.
Jesus knows my darkest fears and gives me the hope of eternal life in His new Kingdom. It is because of this that I'm certain that I'll meet Jesus face to face in heaven.
For me as a Christian, heaven isn't just an ethereal place made from wispy clouds, but a real physical place, as real as planet earth, where God resides and where we will eternally live in peace.
He will wipe every tear from their eyes. There will be no more death or mourning or crying or pain, for the old order of things has passed away. Revelation 21:4
While life's circumstances throw uncertainty in front of me each day, by choosing joy, I'm choosing to acknowledge that when I'm weak in my mind and body, God is strong in my spirit.
The Joy of the Lord is the knowledge that we've been accepted by God and beyond that, we live in total assurance of an eternal intimate relationship with Him.
The Holy Spirit enables us to be able to recognize all that truly feeds our soul and points us to God. The Holy Spirit shows us that God isn't the author of the brokenness in this world but is the One who gives us the strength and guidance to negotiate through the brokenness with His peace.
When we Choose Joy, we can't help but worship God in an overwhelming outpouring of praise.
The Joy of the Lord within us is the same joy that was carried by Jesus on the cross. The same knowledge that He was going to return to his Father in heaven can be embodied within us too.
It was never meant to be about this life, we're all simply passing through and my circumstances are just a 'blip' on the road to eternity.
Our lives are but a vapor, a thin mist that appears momentarily and then vanishes away. (James 4:14)
When we embrace this truth, we no longer waste a moment of this precious life on anything that isn't birthed out of love.
Show me, Lord, my life's end
and the number of my days;
let me know how fleeting my life is.
You have made my days a mere handbreadth;
the span of my years is as nothing before you.
Everyone is but a breath,
even those who seem secure.
Psalm 39:4-5
Choosing joy is an option and a freedom which will transform your life no matter what circumstances you may be living through. 
Choose Joy!
---
INVEST IN YOUR GOD-GIVEN GIFTS AND SPIRITUAL GROWTH
Your Gifts: Spiritual Gifts Discovery
God created you with purpose and passion—learn how you can take the gifts He has given you and use them to advance His Kingdom in ways you never imagined.
---
Here are more free articles, excerpted from the book Your Gifts shown above, one for each of the nine Team Ministry Spiritual Gifts…
---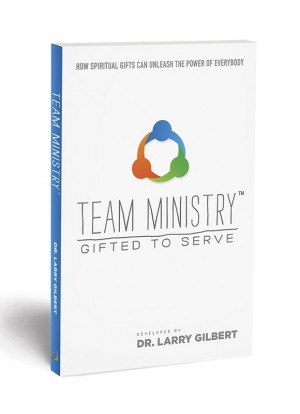 Spiritual Gifts Can Unleash the Power of Everyone!
Lead others to discover their spiritual gifts.
For pastors and group leaders.
Read This Book Now, eBook Instant PDF Download, Click Here
Read This Book with Your Group of Pastors and Shepherds, Bulk Pricing for Groups, Click Here
---
Click on each cover below for more information