Have you ever asked the question: How do I prove myself worthy?
Welcome to humanity. You are part of the global network of individuals who ask big questions to discover where you sit in your small corner of the world.
Whether you seek to belong in a community of friends, a job, a romantic relationship, or expectations placed on you by others or yourself, we are all on a quest to find a place where we feel we are enough. It's a stamp of approval that being yourself—in honesty, vulnerability, and wholeness—you are worthy of love, acceptance and a destiny.
To answer this BIG question…I'll take you on a journey….my search for worth…
Last month I accepted a job in North London (England) as an Assistant Pastor of a church called Soul Survivor.
As an American, the hardest part of accepting this new position was not about getting on a plane to fly 5,000 miles away from home, nor was it the temperature adjustment from the Southern California sunshine to the rainy city streets of Watford, England. The hardest part has been feeling worthy enough.
Just like all human beings, I seek to belong, but also I deeply desire to prove that I am worthy of belonging.
Stepping into a pastoral role was a major step of faith for me and my innate desire to have everyone love me, despite my flaws, was a consuming 'black pit.'
The truth is, I was hired for being myself, but I honestly didn't believe I was enough. My desire to prove myself as the perfect pastor consumed my time, my mind, and weighed heavily on my heart. I slaved away doing everything I thought I could do and that I needed to do in order to please the other staff and to be recognized by the people of the church. I worked late nights and long hours so that I could hear the words, "Well done. We are proud of you. We are blessed because of you. We don't know what we would do without you."
However, as I slaved away, I was plagued by questions and doubt…
How do I pastor others when I don't have all the answers?
You aren't theologically trained, why should anyone listen to you?
How do you expect anyone to respect you as a pastor when you are only 24 years old?
What if someone is better equipped for this job than you?
What if I can't convince people I am worthy to be their leader?
And the biggest one of them all, What if I disappoint God with what he has given me to shepherd?
With doubts in my head, tiredness in my bones and an aching in my heart, I went to the best place I knew for answers…The Bible. This precious gift from Heaven gives us so many glimpses into the heart of our Father. When I read my Bible, it is a place where I climb into the lap of my Daddy and listening to His heartbeat for His world and for me. Sitting in His lap I asked my Daddy for help and He responded in whispers that gave me strength and hope. Below are some of the epiphanies He whispered in my ear.
The first whisper: Sit at Jesus' feet. Luke 10:38-42
When the world feels in utter chaos and you feel your worth is the size of a pea, the best place to be is sitting at Jesus' feet.
In the story of Martha and Mary, Martha has just welcomed Jesus, the Messiah, into her home! She is busy at work attempting to make her house worthy of Jesus' presence and arrival. Although she was a great hostess, the work became excessive. Martha stops to tell her sister off for sitting and listening to Jesus rather than helping prepare the house.
Jesus responded to Martha, not condemning her nor demeaning her work, but rather Jesus said "Martha, Martha, you are anxious and troubled about many things, but one thing is necessary. Mary has chosen the good portion, which will not be taken away from her." Luke 10:41-42
Jesus called and calmed Martha by name, exposing her fears and mindset in a loving way and showed her what is truly necessary. Jesus didn't say to Martha that her work was insignificant nor not needed. The necessary place for her and for us to dwell, particularly when we are troubled, anxious, insecure, and exhausted, is sitting still and listening at Jesus' feet.


Why at Jesus' feet? When we quiet our hearts and sit vulnerable before the Lord, He exposes where the truth dwells and where the lies of the enemy rot our hearts. It is at His feet that we find out where our priorities and ambition should be. It is a resting place for us where our questions and doubts are silenced and the words of Jesus strengthen our hearts, minds, and bodies. He teaches us about His heart in this place and He also shows us our own identity under the light of His love, acceptance, and belonging.
Just as the world and Martha saw Mary as unfit to sit with Jesus, Jesus calls her worthy and beckons us to dwell with Him as well. It is at Jesus' feet where we listen, we learn and from which we are launched out into where He will send us next.
Being worthy is not 'work' based but rather an 'identity.'
When we can't claim worthy for ourselves, Jesus Christ does. That is why we must come to Jesus, offer Him ourselves and claim the truth in who we are and where our worth begins.
The second whisper: Find and hold tight to your gifting. 1 Samuel 16
All of us have been given by God good gifts and talents to use to glorify God and to be His hands and feet in our communities.
The key is discovering how God has gifted you. Knowing your spiritual gifts will be a clear indication in where your anointing lies.
God has anointed you and purposed you for great things "for such a time as this" (Esther 4:14). However if you do not discover where you are gifted, then you may never discover where you are anointed to serve.
How to discover your anointing takes time but I recommend first going to prayer and asking God what are your gifts? Secondly I would ask close intimate friends to tell you where they see your gifting. Thirdly you can take the free online Spiritual Gifts Survey for more insight into your gifts from Heaven.
In any case, to just have gifting is not enough. Just like a muscle will shrink if it is not used, your gifting will not flourish and grow if you do not exercise it throughout your life.
Take David, the shepherd boy who was overlooked by all, but was anointed as the next King of Israel (1 Samuel 16). Although David knew he was anointed, he did not claim the throne that day. In fact, after David was anointed he went back to the sheep, the place where he exercised his gifts. It was in the quiet places, where David would sit with God and worship, fight the beasts and shepherd his flock. It is in the places we least expect where God is training and exercising our gifting.
David was then brought before Saul to worship in his court, having the knowledge that someday he would sit on the throne. David did not gloat nor did he kick Saul out of his leading position. David chose to serve God, serve Saul and walk in confidence in the Lord's perfect timing. Even if you are gifted for big things or have vast ambitions to use your anointing, remember it is in the small places where you grow, learn, and more importantly, can witness God leading the way.
Next, David fought Goliath. David did not know he was going into battle against a giant. In fact, David only arrived as a currier to bring food for his brothers. When David saw the battlefield and began to ask questions, his brother ridiculed him and jeered for him to go back to his "few sheep" (1 Samuel 17:28). At that point David could have succumbed to the mockery and gone home. The doubt and lies could have clouded David's mind and David could have left his gifting and anointing on the battlefield. But David, knowing his place before God and having been prepared in the field while watching the flock, approached Goliath and fought in his anointing. David declared to Goliath, "…the battle is the Lord's" (1 Samuel 17:47). So too your anointing and battle is His.
Many would say David was not worthy of his anointing, but God proclaimed him worthy. David was worthy as a shepherd boy, he was worthy on the battlefield and he was worthy as King. Ultimately David's success flowed from the anointing of God, but it was only exercised when David was trained in the quiet places and when he stepped out in faith on the battlefield. If you know your anointing, don't let the lies of the enemy or others deter you from pursuing it and fighting for it. It is easy to give up, particularly when you do not feel worthy, but your source, your battle and your strength is found in the Lord.
You will be attacked from every side, but be encouraged by what Paul wrote in 2 Corinthians 4:7-12, "But we have this treasure in jars of clay to show that this all-surpassing power is from God and not from us. We are hard pressed on every side, but not crushed; perplexed, but not in despair; persecuted, but not abandoned; struck down, but not destroyed. We always carry around in our body the death of Jesus, so that the life of Jesus may also be revealed in our body."
The third whisper: Walk in freedom. John 21:15-19
Have you ever been on a mountaintop and as you gazed into the beauty around you, you were compelled to yell? You have just climbed to the top, maybe had a few bumps along the way, and you are now yelling with a sense of freedom and release. Freedom is our battle cry.
In Galatians 5:1 Paul writes, "It is for freedom that Christ has set us free. Stand firm, then, and do not let yourselves be burdened again by a yoke of slavery."
Being deemed as unworthy is an oppressive yoke, but when we claim Worthy as an identity we are claiming freedom for ourselves and for our future.
Peter, Christ's disciple, had moments of pure genius and other moments of pure failure. Yet he walked with Jesus, talked with Jesus and was told by Jesus that he and his testimony were the rock on which Christ would build His Church.
Leading up to Christ's crucifixion, Peter failed miserably; he denied Christ three times, cursed himself and turned away in fear and despair. I am sure that Peter felt his failure deeply and he doubted his worth as a disciple and as the rock Christ declared him and his testimony to be.
However the first encounter Peter had with Jesus after his failing and after Christ's resurrection is recorded in John 21:15-19. Jesus doesn't ask Peter "why did you deny me?", "why did you fail?" or "how can I trust you to be the rock of the church when you left me?" No, instead Jesus looks to Peter and asks him three times, "Do you love me?" It is from Peter's response that Christ commissions him to, "feed my lambs", "tend my sheep", "feed my sheep", and finally to "follow me."
I love this because Peter was not worthy to lead. He failed majorly! However, Christ, who is worthy of our praise, only asks us one question, "Do you love me?"
When we walk with Jesus, we walk in freedom. It is a walk propelled by nothing more than our love for Him. It is only this love we have that can qualify us to do His work in our world and communities. Peter probably felt like a coward at times and I am guessing there were moments after that friendship embrace with Jesus that Peter's courage left him. But more important than trusting in our own efforts and personal courage is for us to keep our eyes fixed on Jesus and walk in our newfound identity of worth. I have come to learn that this freedom in Christ will take you to amazing places and lighten your yoke for the journey.
So, as I sit here in England writing this, I know that I cannot prove myself worthy as a Pastor. I could work and work and work to seek others' approval and try to find my own self-validation, yet I will always fall short.
BUT God is worthy. He calls you worthy and ushers you into the freedom of being enough. It is in this freedom that our work feels less burdensome and our strength to persevere increases. For when we claim the worthiness Christ lavishes on us, it doesn't make us stop doing the work that is hard; in fact, it gives us motivation on the journey to give God the glory and to continue exercising our gifting and worth.
Just as the prodigal son says, upon returning home after making a mess of his life, 'Father, I have sinned against heaven and in your sight, and am no longer worthy to be called your son' (Luke 15:11-32), the Father embraces him, kisses him, welcomes him home with a party and rejoices in his son returning to the Father, proclaiming his worth.
Return to the Father, sit at His feet, listen to His voice speak to you, discover your anointing, fight for your gifting and walk in the freedom before you. It is through sitting at Jesus' feet and listening to Him that we discover truth, the truth of God and the truth of ourselves. It is through the gifts He has given us, that we move closer to the heart of our calling and the height of our worth. Although we will be attacked with fear of failure and fear of falling short of our worth, look to Jesus and embrace your anointing. Hear Him whisper to you, "Do you love me?"
Now, walk in His freedom and keep your eyes fixed upon Jesus. Remember, the closer to Jesus you are, the closer you will be to hearing His heartbeat for you.
Worthy is the Lamb!
---
INVEST IN YOUR GOD-GIVEN GIFTS AND SPIRITUAL GROWTH
Your Gifts: Discover God's Unique Design for You
God created you with purpose and passion—learn how you can take the gifts He has given you and use them to advance His Kingdom in ways you never imagined.
---
Free Online Spiritual Gifts Survey: Discover what you are gifted by God to do on this earth in about 20 minutes, CLICK HERE
---
Here are more free articles, excerpted from the book Your Gifts shown above, one for each of the nine Team Ministry Spiritual Gifts…
---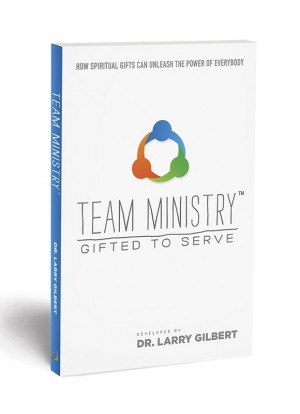 Spiritual Gifts Can Unleash the Power of Everyone!
Lead others to discover their spiritual gifts.
For pastors and group leaders.
Read This Book Now, eBook Instant PDF Download, Click Here
Read This Book with Your Group of Pastors and Shepherds, Bulk Pricing for Groups, Click Here
---
Click on each cover below for more information